There is so much talk about self-care in the online caregiving discourse that it's just plain exhausting. What we need is a simple and realistic way to think about how to meet our own physical and emotional needs while we give care to another. I think I found a good one and it's called The F-Words in Childhood Disability.
I first learned about the F-Words when I heard about an article that my friends Dr. Peter Rosenbaum and Dr. Jan Willem Gorter wrote for a medical journal. The F-Words are: FUNCTION, FAMILY, FITNESS, FUN, FRIENDS AND FUTURE. The F-words build upon the World Health Organization's (WHO's) International Classification of Functioning, Disability and Health (ICF) framework. The ICF framework shows how body structure and function, activity, participation and environmental factors and personal factors are interrelated and equally influence our health and functioning.
These domains are key ingredients for the health of any child growing up with a disability but I began to think about how we could use this framework for anyone giving or receiving care.
Here's how a young man called Brennan filled in his F-Words template: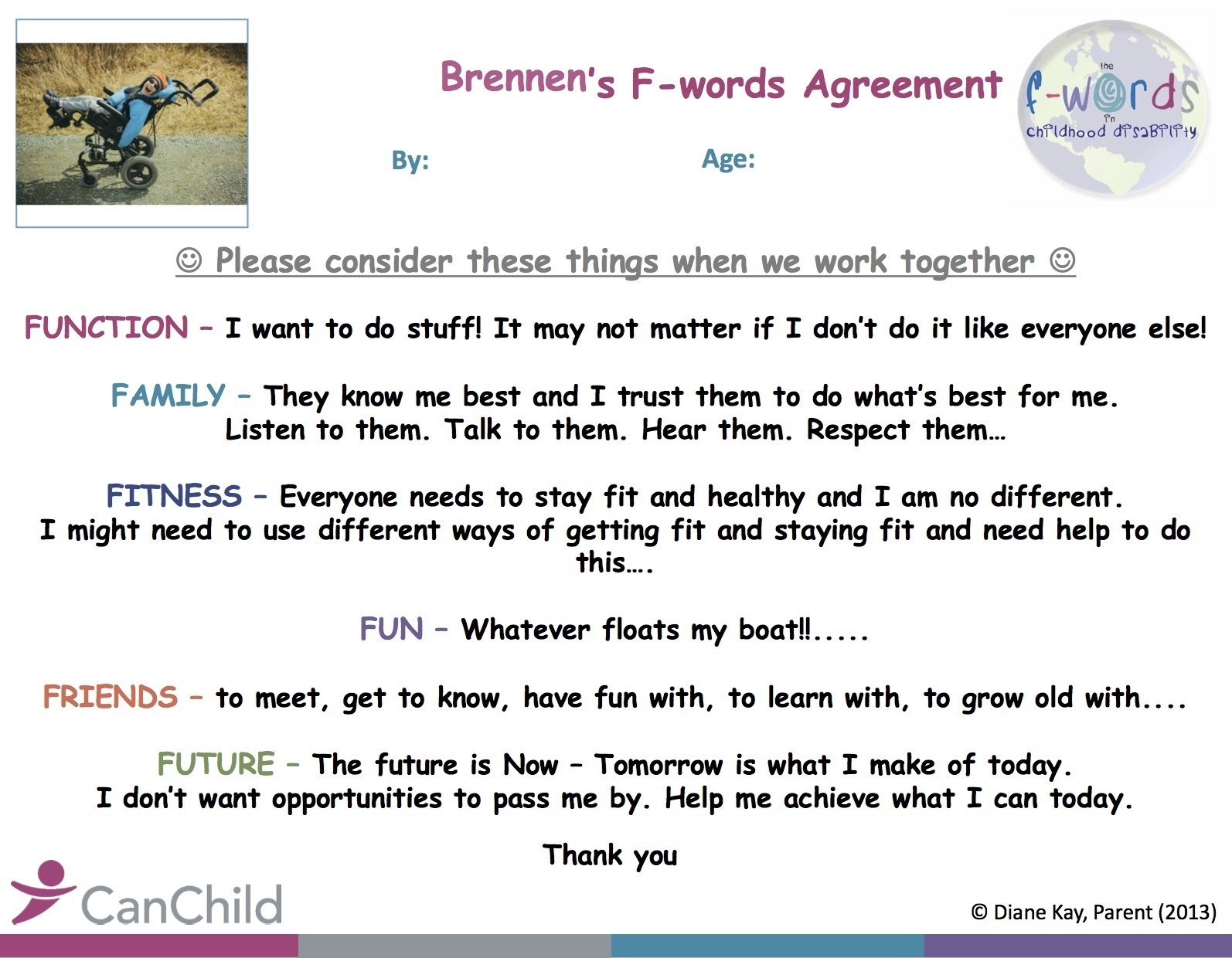 Now imagine how your loved one would fill in his or her F-Words template. Try it with them by downloading a template HERE. Even if your loved one is non-speaking or very incapacitated by illness or disability, they will have goals based on their 'best day' that you could fill in for them.
Now complete one for yourself. Given the givens, what can you realistically hope for in your own Function, Family, Fitness, Fun, Friends and Future? What are activities or goals that you could add into these domains? Use this template to think about balance in your caregiving life and share it with your loved one, your extended family, friends and even the medical professionals who support you.
Ask yourself how your loved one's F-Word goals mesh with your own. Can you negotiate or use these goals to help create a schedule of activities that reflect your best effort at balance?
For more information on the F-Words, check out the range of free tools and resources on the CanChild website HERE.