Caregivers have a unique role in our world - one of private service. We are maids, butlers, concierges, chefs, shoppers, project managers, bookkeepers, payroll clerks, personal shoppers, nurses, consolers and therapists.
Think of this: in our consumer world, these personal services come at a premium price. Only the privileged get a 'person' - others deal with automated responses. Every day of the year, we are giving the very best service we can to someone we care about, deeply. And this has great value.
So this Christmas, it's an opportunity to think about receiving something meaningful to you. Here are my ideas for a Christmas list that speak to the soul - ask for anything from this list and you are guaranteed to feel uplifted! Here are 5 gift ideas that you can enjoy at home, while still caring for your loved one.
1) Our book, The Unexpected Journey of Caring: The Transformation From Loved One to Caregiver - written by me and Dr. Zachary White. We wrote about the double-edged sword of caring - the burden and the joy. We reflected on how our values change with the role and when that happens, our old friends and interests fade away. We talked about what grows in us and what dies in caregiving, over time. But we didn't leave it there. With a new language to describe the experience at home, we located the best and most helpful, practical tools to ease the care path. Our book offers ways to connect and coordinate care, locate hidden resources in your community and how to map your care 'eco-system' to visualize who is doing what in your circle of care.
Recognizing that each caregiving situation is unique, Zachary White and Donna Thomson bring readers into that life...They describe the inexorable transformation into "caregiver" in a story EVERYONE should read. This book details the psyche of caregiving – how it can change you forever; as well as the physical and daily duties of such 'work' in easily understood terms. Best of all, it gives caregivers ideas on navigating the inevitable roadblocks and
surviving
this under-recognized segment of American society – 45 million family caregiving heroes!
(Lawrence Bocchiere, President Emeritus/COB, The Well Spouse® Association)
The Unexpected Journey of Caring is adorned with witty, intelligent narrative and personal stories that illuminate the space where fear, uncertainty and stigma tend to reside.
This book is what caregivers need it to be: solid, straightforward, honest and kind. (A sample Amazon reader 5* review)
2) A subscription! For flowers, cleaning, surprise gift boxes or just the promise of a once-monthly visit for coffee and company. Something representing love and comfort that arrives once a month lifts the caregiver soul, because there is ALWAYS something lovely to look forward to.
3) A yoga mat and download of the (free) DAILY YOGA app.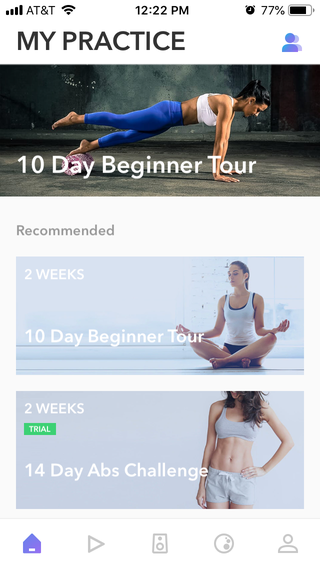 4) A subscription to a streaming network that you don't have currently but would love - Netflix, Amazon Prime, HBO or a Movie Channel. But don't stop there, ask for a friend or family member to join you once a month for a movie at home with popcorn supplied.
5) A subscription to Audible Books so you can 'read' as you fold laundry, prepare medications and do the dishes. My favorite is current bestseller, The Dutch House by Ann Patchett and narrated by Tom Hanks.
"Tom Hanks narrates this novel about Danny and Maeve, and their beloved childhood home, The Dutch House, with a restraint that admirably captures the writing's surface calm and buried tension.... Hanks takes his narrative cue from Danny, who tells the story in a mix of bemusement, wonder, and nostalgia. It's not a dramatic performance but is, instead, a sensitive and warm reading of a fine novel about love, loyalty, redemption, forgiveness, and what we will do to make the world the way we want it to be." (
AudioFile
Magazine)